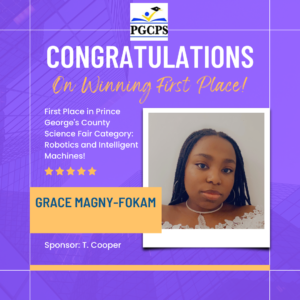 NCWIT proudly announces the 2023 NCWIT Award for Aspirations in Computing (AiC) national recipients, honoring 400 high school students from 44 states, Puerto Rico and the U.S. Virgin Islands, and all U.S. overseas military bases.
Each year, U.S. high school students in grades 9 through 12 who are women, genderqueer, or non-binary are eligible to receive recognition for their aptitude and aspirations in technology and computing, as demonstrated by their computing experience, computing-related activities, leadership experience, tenacity in the face of barriers to access, and plans for post-secondary education. This year, 40 winners and 360 honorable mentions were selected from more than 3,300 amazing, talented young applicants.
Our very own, Grace Magny-Fokam, was awarded not only the National Winner Award, but also THE 2023 Maryland Affiliate Winner!!!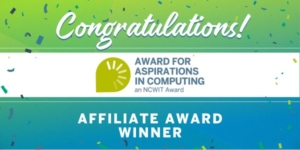 ______________________________
Grace Magny-Fokam is a 2023 Coca-Cola Scholar! This means that she will receive a $20,000 scholarship to the college of her choosing, she'll be part of an elite alumni network, and will be flown out for the Coca-Cola Scholars weekend in April! Grace was selected as 1 of 150 scholars across all 50 states (including Washington DC and some US territories). Out of 91,000 applications, she was selected for the most competitive scholarship program in the country, with only a 0.16% acceptance rate. Grace is also the first scholar in over 7 years to have been selected from Prince George's County, and this year, she is one of only 2 from the state of Maryland. 
Veronica Monroe,
National Honor Society Adviser
______________________________